Deh deht! Beh deh deht! Beh deh deht! Beh deh deh bed doh!
After a warm welcome from Carole Hallows, our Chair, 'Carol of the Bells' rang out to signal the start and set the tone of Audlem Voices Christmas Concert in St James' Church on Friday 13 December.
After months of work under the guidance of Jenny Collis-Smith, our Musical Director, we stood ready to welcome back a favourite soloist, amazing soprano Denise Leigh – the only woman ever known to single-voicedly lift the roof off an ancient monument. And she was not alone...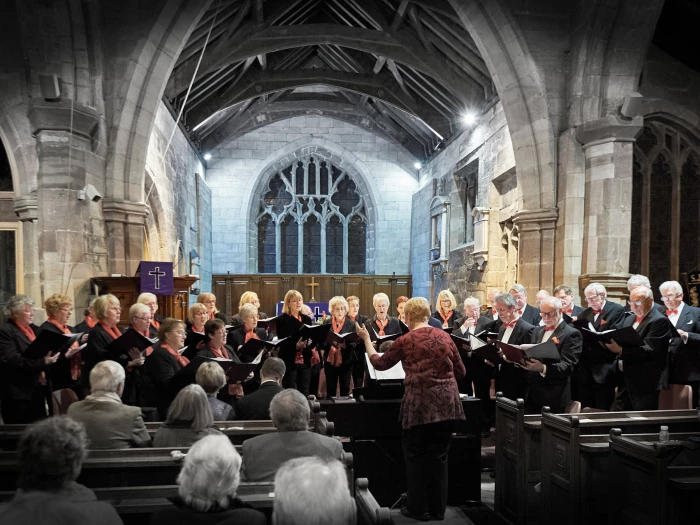 But before she took to the platform, we were on about the snow – in a lovely version of 'See Amid the Winter's Snow' (with the audience), followed by Bob Chilcott's soulfully chilly 'Mid-Winter' and a nicely bop bop bop jazzy 'Jingle Bells'.
Denise now stepped up with her two companions – Stefan Andrusyschyn, renowned accordionist and keyboard player, and Tilly, her gorgeous guide dog, who completely beguiled all who met her.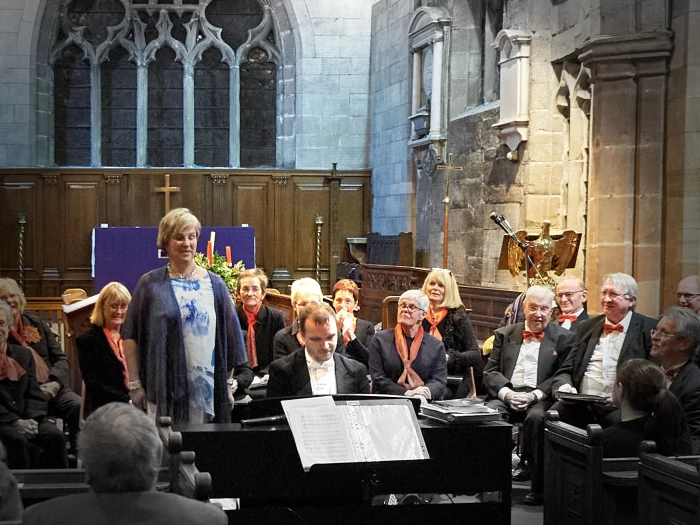 Accompanied by Stefan, Denise sang a haunting 16th century poem 'To the Queen of Heaven', set by Thomas Dunhill, following up with John Rutter's deceptively simple 'Candlelight Carol'. (As an aside, Denise informed us she had deliberately picked that piece when she found out that, astonishingly, Jenny had not given the choir a single original Rutter piece to sing!)
Stefan took the stage and showed us how his AKKO Classic Accordion – an instrument the size and weight of which has to be seen to be believed – has a 5-octave range, and yet the arrangement of its keyboard and buttons means that he can cover three octaves with one hand. Furthermore, it has the power to deliver the deep sound of a church organ – which he proceeded to demonstrate by playing Bach's grand 'Toccata in D minor'. As he returned to his seat, Jenny put the question we all wanted to ask: "What had he been doing with his chin?"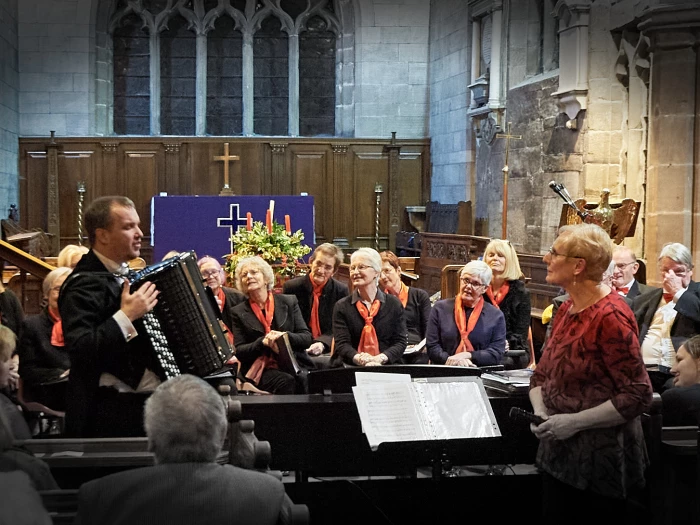 Thus we learned that there are buttons on the top of the accordion which the performer can control rather like an organist can group organ pipe settings, and the easiest way for him to do this when both hands are occupied is by deploying his chin!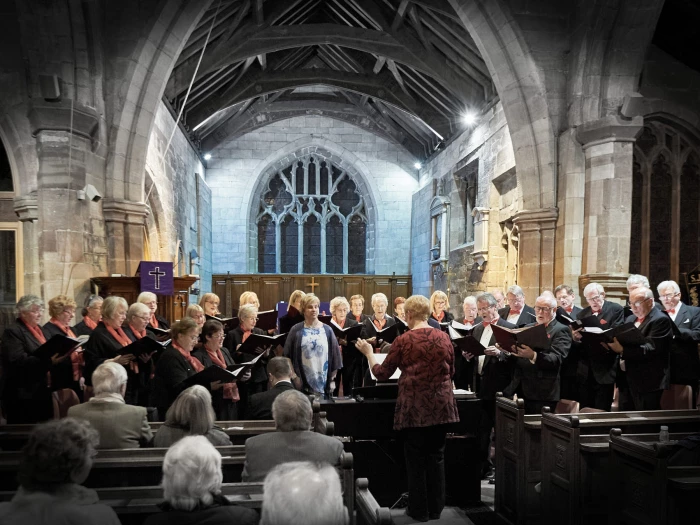 Turning back to Christmas, we magically transformed ourselves into little birds with Bob Chilcott's chirpy 'Sparrows' Carol' before Denise joined us on stage to raise the hairs on the back of our necks with what may be the best Christmas anthem ever written, Adolphe Adams' 'O Holy Night', as arranged by John Rutter (ahem!). Antony Le Fleming's 'I Saw Three Ships' and 'Hark the Herald Angels Sing' rounded off the first half of the evening.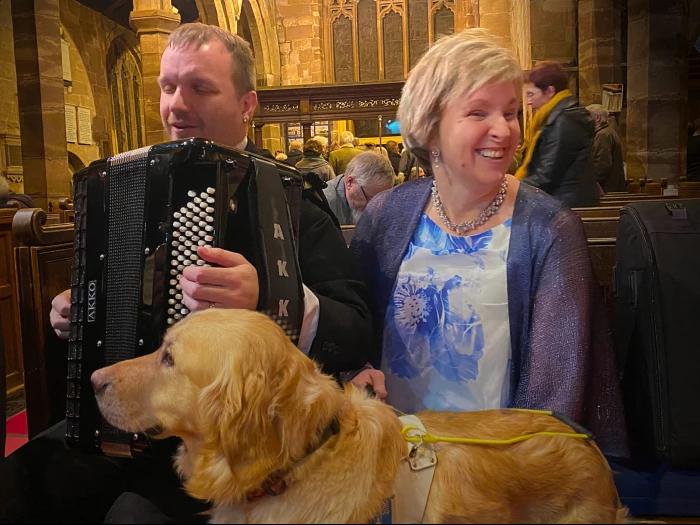 Refreshed after the interval, we launched full pelt into a wonderful a capella arrangement of Mariah Carey's 'All I Want for Christmas', which is such fun to sing, before returning to more classical works with Bach's 'In Dulce Jubilo' (in two foreign languages!) and Morten Lauridsen's soaring meditation 'O Magnum Mysterium' (in one).
Our star guests had yet more delights in store. First Denise sang 'The Bird Carol', a dreamy lullaby by Ukrainian composer Babinsky. (You've probably never heard of him, because he was imprisoned and his music banned during the Soviet period, and all his compositions destroyed. But as luck would have it, not all his music was lost. Ukrainian emigrés, including Stefan's own grandparents, had some of the original sheet music.)
She followed this with the perennially popular 'Santa Baby' – a Christmas song first made famous by Eartha Kitt. No Santa could resist an invitation like that when issued by Denise, that's for sure!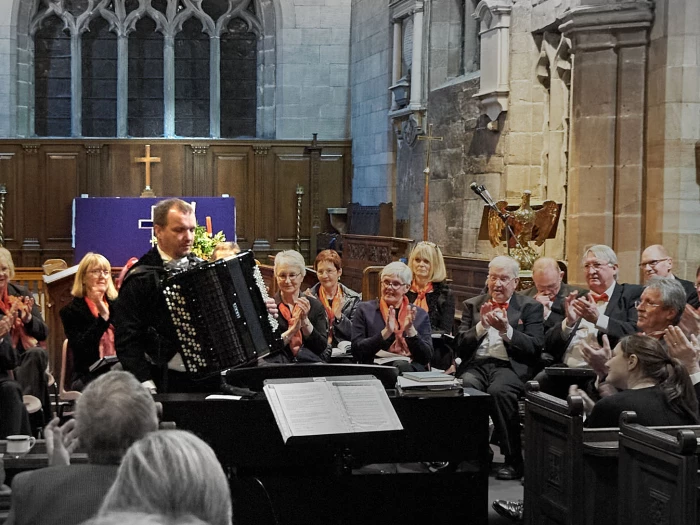 Stefan took up the accordion again to give us an Italian angle on Hungarian gypsy dance music which has become so popular that there are (allegedly) more than 6,000 recordings of it. We fortunate citizens of Audlem were treated to a zinger of a live performance of Vittorio Monti's 'Czardas', during which, to our astonishment, Stefan was at one point playing his accordion with his left hand and the piano with his right! The audience applause was so rapturous that Stefan graciously agreed to give an encore, enrapturing us still further with the sensuous 'Santido Amico' by Argentinian tango composer Astor Piazzolla.
Exhausted by all that dancing, the choir now turned quiet and reflective with two carols focused on the song of the angels at Bethlehem – 'It Came Upon a Midnight Clear' and 'Do You Hear What I Hear?', a carol written in the middle of the Cuban missile crisis in 1962 by husband and wife Noel Regney and Gloria Shayne as a plea for peace.
The audience stood as one to join us in a rousing 'O Come All Ye Faithful' before beautiful flowers and grateful appreciation were bestowed on Denise and Stefan for their unforgettable contribution, on Jenny Collis-Smith for bringing out the best in us, on Naomi Newman our indefatigable accompanist, and on all the background helpers who made it all happen.
And so we closed, with a final jazz arrangement of the traditional Christmas greeting 'We Wish You a Merry Christmas!'
KF for Audlem Voices