The doughty citizens of Audlem who braved the biting wind chasing them up the mound beneath glittering stars and a crescent moon into the shelter of St James Church on Friday 14 December were in for a wonderful treat at the sell-out Audlem Voices Yuletide Concert.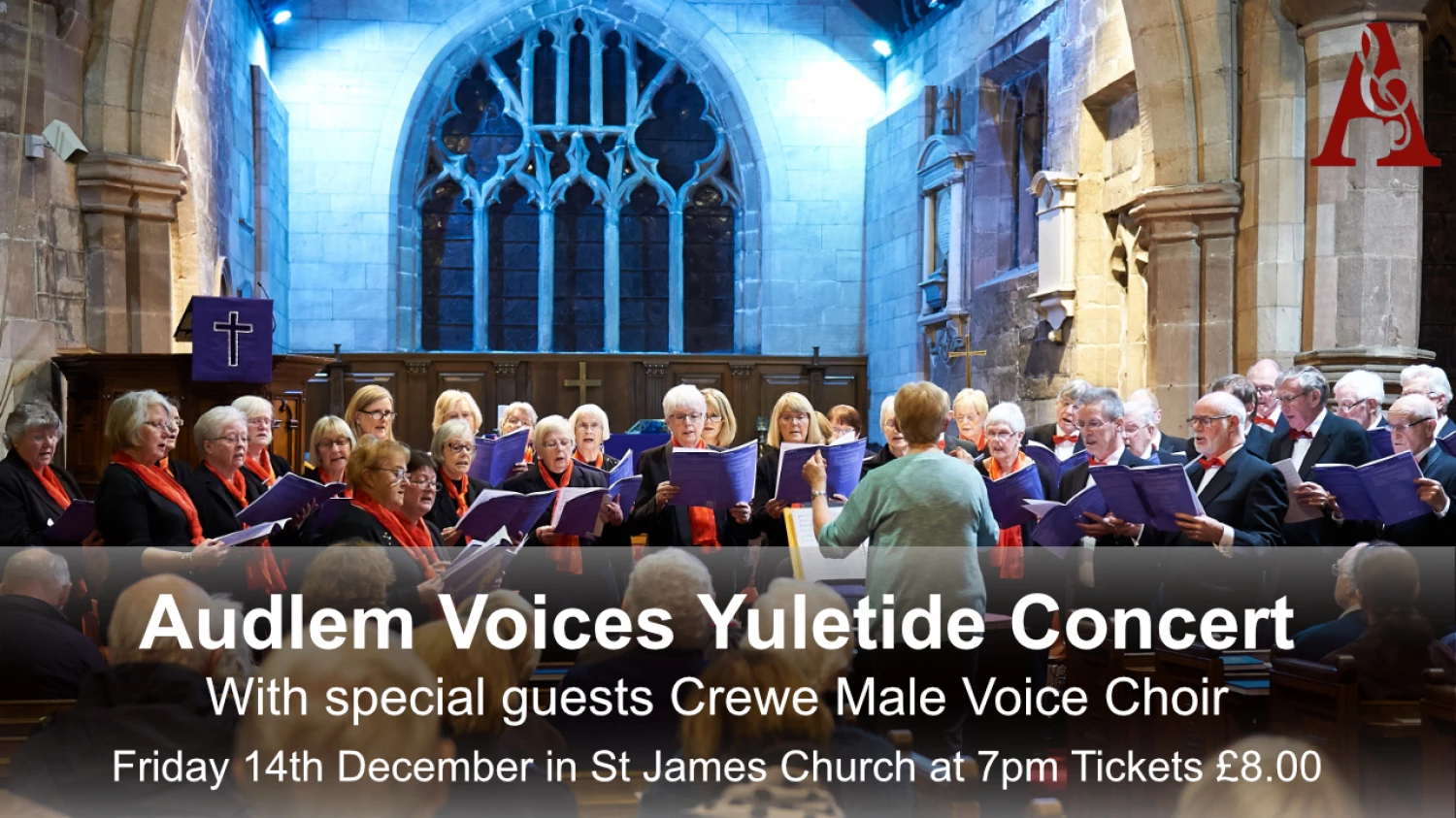 Oh the joys of a mediaeval church – winter coats as essential inside as outside, radiators radiating away like billy-o, to not much discernible effect!
But no matter!
Our lovely audience radiated enough warmth and good spirits between them all to fuel each other and not just one but TWO choirs, as Audlem Voices in classic black-and-red were joined by Crewe Male Voice Choir in angelic blue to present a varied programme of Christmassy music sprinkled with delightful nothing-to-do-with-Christmas-at-all numbers (just because).
Carole Hallows, our Chair, warmly welcomed the audience and our guests, and Audlem Voices launched proceedings with Randy Vader's lively 'Born is the King!' before whisking us off to the illegal gambling dens and revivalist missions of 1930s New York with a medley of songs from 'Guys and Dolls'.
The battle for hearts, souls and big wins – and real, true, love – played out in song, with the gamblers giving their odds on the sure fire winners at the racecourse, and lovers admitting they've never been in love before so don't blame them! Jenny Collis-Smith, our Musical Director, gave a touching solo performance as a heartbroken spinster whose man has yet again failed to propose, leaving her with a nasty psychosomatic cold. We shouldn't have laughed, really, but it was funny! All was brought to a rousing conclusion as one of the gamblers claims his soul has been saved by a powerful dream of being washed overboard on the boat to heaven. Phew!
John Tavener's beautiful a cappella piece 'The Lamb' was followed by certain ladies of the choir – cheekily introduced by Jenny as 'The Mamas' – singing 'Dream a Little Dream'.
The audience got their first chance to join in with 'Once in Royal David's City' and the volume of sound they produced (without any pressure) made us want to invite them all to join the choir forthwith!
Stephen Davies, the musical director, introduced us to Crewe Male Voice Choir, who have recently celebrated their 60th anniversary, which is an impressive performance in its own right. They delighted and moved us with the Gospel carol 'Gotta Whisper, Gotta Shout', the theme song from 'Band of Brothers' (including a beautiful instrumental solo from accompanist Treona Holden), and the world famous 'Walking in the Air' from 'The Snowman'.
'The Mamas' having been so successful, 'The Papas' could not be left languishing, and the men of the choir rose to the challenge with a tender choral version of the ballad made so famous by Bette Midler – 'The Rose'.
Of course, no concert conducted by Jenny dare omit John Rutter (is there an award for most devoted fan?). He got in twice – first with an arrangement of the traditional 'Sans Day Carol' and later with his exquisite 'Candlelight Carol', whose gentle lullaby flow we followed with Malcolm Sargent's humorous arrangement of 'Cowboy Carol', complete with banjos (ahem!).
The audience sang out again with 'Hark the Herald Angels Sing' and I, for one, started to worry that the reverberations would make the wonky candle in the candelabra up above Jenny's head finally fall from its perch and land on her head!
The men in angelic blue now wanted to take us on a Sleigh Ride, but there was a problem. Stephen assured us that he had ordered sleigh bells from Amazon only that morning, but they had failed to arrive. Could the audience help? Jingle their car keys, for example? Or their jewellery, should they happen to have any? But only at the right time! Of course they could, and off we went. Brushing the snow from their shoulders, the men then gave us the haunting 'Do You Hear What I Hear?' before Stephen totally confuzzled the audience by going round asking 'Are you married?' Their faces were a picture! It was all a ploy to get them to join in with 'Winter Wonderland', which they did with great gusto. Crewe Male Voice Choir concluded their set with a beautiful Christmas 'Benediction'.
Rested and entertained, we gathered ourselves for the climax, starting with the magnificent 'Glory to God' sung by the angels from Handel's 'Messiah', moving on to Berlioz's 'Shepherds' Farewell', followed by Peter Cornelius' beautiful 'The Three Kings', with Geraint Davies doing us proud in the solo. To conclude, we gave ourselves heart and soul to David Willcox's thoroughly delightful arrangement of 'Lord of the Dance'.
Jenny Collis-Smith and Carole Hallows thanked the performers and all the background helpers, and flowers were presented to Naomi Newman, our accompanist, and Treona Holden, Crewe Male Voice Choir accompanist. Jenny too received a magnificent bouquet.
Our wonderful audience wrapped it all up with one last old favourite, 'O Come All Ye Faithful', before we all went down to the back of the church to enjoy well earned refreshments and nibbles.
Only one thing missing from the whole wonderful occasion, really – in all the excitement and planning, we forgot to organise someone to point a camera and take pictures!
We'll do better next time!
KF for Audlem Voices
Programme
Audlem Voices:
Tis a Wonderful Thing
Guys and Dolls
The Lamb (Tavener)
Dream a Little Dream
Once in Royal David's City
Crewe Male Voice Choir:
Gotta Whisper, Gotta Shout
Band of Brothers Theme
Walking in the Air
Audlem Voices:
Sans Day Carol (Rutter)
The Rose
Candlelight Carol
Cowboy Carol
Hark the Herald Angels Sing
Crewe Male Voice Choir:
Sleigh Ride
Do You Hear What I Hear?
Winter Wonderland
Benediction
Audlem Voices:
Glory to God (Messiah)
Shepherds Farewell
Three Kings
Sing Lullaby
Lord of the Dance
O come all ye faithful